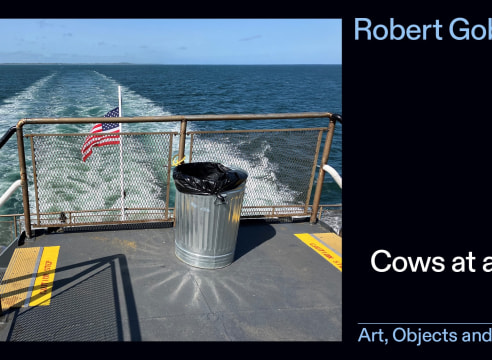 Robert Gober
Robert Gober: Cows at a Pond, September 7th through October 14th, is an exhibition of art, personal objects, and ephemera from the artist's collection, presented by Demisch Danant. In 2019, Gober and his partner Donald Moffett took part in the gallery's exhibition A Specific Eye: Seven Collections, which presented seven personal collections of aesthetic objects, on loan from celebrated New York connoisseurs and members of the gallery's extended circle. Four years later and as a follow up to their initial collaboration, Suzanne Demisch renewed the invitation to her longtime friends and gave them carte blanche to reimagine the gallery space. This time Moffett demurred, but for Gober the timing was right.

Robert Gober: Cows at a Pond, is a continuation of the gallery's ongoing exhibition program centered around the art of collecting. This series – which encompasses shows, publications, and panel discussions – delves into the nuances of connoisseurship, the transformative journey from 'buyer' to 'collector', and the impact of obsession, research, taste, and personal narratives on shaping collections.

Gober's expertise in curatorial projects has been showcased at esteemed venues such as The Menil Collection in Houston, the Hammer Museum in Los Angeles, and the Whitney Museum of American Art in New York. Gober has had numerous one person exhibitions, most notably at the Dia Center for the Arts, New York, The Museum of Contemporary Art, Los Angeles, Schaulager, Basel, The Museum of Modern Art, New York, and Fondazione Prada, Milan. In 2001 he represented the United States at the 49th Venice Biennale.
Gober's most recent endeavor was organizing the exhibition Lois Dodd "No one else can really help you…" Paintings + ephemera at Hopkins Wharf Gallery, in North Haven, Maine in cooperation with Alexandre Gallery.