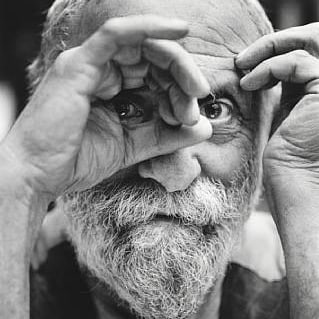 (French, 1921–1998)
Known universally as César, French sculptor César Baldaccini was an internationally celebrated French artist who achieved acclaim for his truly radical approach to sculpture in the years following World War II. In 1960, he was a founding member of the Nouveaux Réalistes, a group that paralleled the emergence of American Pop art and included Yves Klein, Jean Tinguely, Christo, Martial Raysse and Arman, among others.
In the 1960s, César became known for his solid welded creature sculptures as well as for his compressions of old vehicles and other junk material into tight packages. Fascinated by the metamorphic qualities of the process, he immediately came to believe that compression would yield the ultimate monuments of the mechanical age. The artist began using the press in his sculptures, carefully selecting full or partial cars and directing the ways in which the materials were crushed. The resulting works were initially viewed as a deliberate and wholly anti-aesthetic insult to traditional metal sculpture, yet César's Compressions—as they would come to be known—were not simply the end result of a mechanical operation: They were representations of the possibilities that presented themselves at a particular intersection of material, physics, authorship and context.
Another expression of César's creativity took the form of semi-organized sculptural spills called Expansions, first produced in the late 1960s. Realized with liquid polyurethane foam, a novelty at the time, each spill was tinted a color of the artist's choice, expanded, and then left to set, a process that resulted in soft forms several times larger than their original liquid volume. César was moved by this material's freedom and energy—rather than conforming to the matrix of a mold, it actually spread and expanded. Excited by his discovery and eager to share it the public, from 1967 to 1970 the artist organized a series of happenings where spectators were invited to watch the material self-modify from its preparation to its solidification. His experimentation with new materials that easily transformed from liquid to solid led César to begin working with other types of plastic as well as with glass. Most notably, his Plexiglas compressions yielded translucent and slightly tinted objects that resembled large-scale versions of Christmas ribbon candy; they occasionally encased such banal objects as typewriters, shoes, televisions and other household goods.
The Expansion Table (1977) is one of the few works in which César applied his expansion technique to a functional object. Other examples include bronze ashtrays, a lamp and a console commissioned by legendary decorator Henri Samuel around 1970. Indeed, César considered his functional objects and jewelry to be sculptures—extensions of his art practice.
A rare artist who was both a formal innovator and a profound influence on taste, César continues to be revered and his work much sought-after. His functional pieces are particularly desirable because of their scarcity. His works are in the permanent collections of many international museums, including the Museum of Modern Art in New York, the Tate Gallery in London, the Musée d'Art Contemporain (MAC) in Marseille and the National Gallery of Art in Washington, D.C.